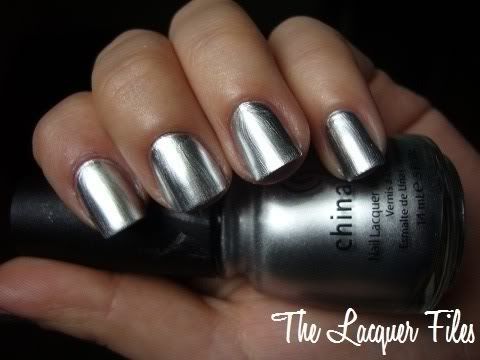 Hi dear reader!
What a awful day it is: grey, raining and I'm sick. :( I really need the sun! But there's something that lights up my day: I have 100 followers! Yay! I did have some time swatching a few polishes and here's number one: China Glaze - Millenium.
Everyone is using Millenium as polish to stamp with. That isn't wrong because it really works great with Konad but it looks pretty darn funky when you polish your nails with it. I do feel this isn't a polish to wear when you're doing the things you do a regular day, but when you have a party it is great! I can see myself wearing this polish on New Years Eve or my birthday. ;)
Millenium is just a great silver metallic from the Khrome collection that I highly recommend buying (if you haven't done that already). The only thing I dislike about it is that it makes every single line, scratch and blemish visible on your nails, but you can solve that by using a good top coat. You can order it online at
transdesign.com
.
Thanks for visiting!
Michelle